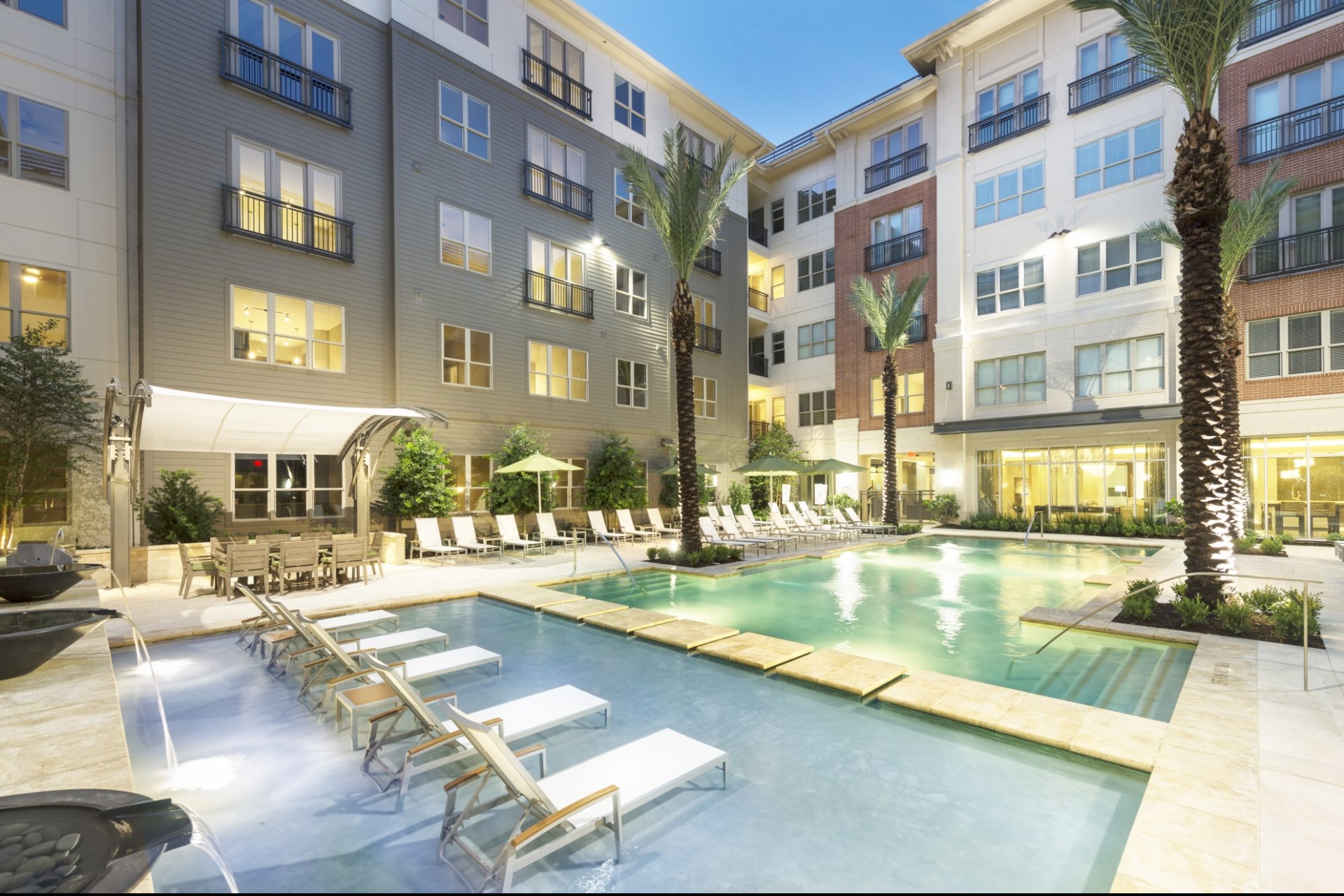 http://www.windsoratwestuniversity.com/Apartments/module/blog/action/view_content
Walking into the Windsor at West University luxury apartments in Houston is like walking into an upscale hotel in Miami. There are lots of alcoves with outdoor seating and comfy couches which make great meeting places. Floor to ceiling windows makes excellent use of the abundant Texas sunshine. This elegant reception is something you can get used to, and this elegance continues throughout the whole community.
In fact, it is so inviting, it may be hard to go to work in the morning. If you are lucky enough to be able to work from home, there is a WiFi lounge with desks and rolling office chairs. You could also work outside in one of the outdoor alcoves, at the pool or clubhouse. There is even a conference room if you need to have a meeting at home. If you do have to go to the office, there is even a dry cleaning service on site.
Of course, there is more to life than just work. You can work out in the 24-hour fitness center with cardio and strength training equipment. There is a separate room equipped with spin bikes, balance balls, and space for yoga and stretching. Let off some steam by challenging a neighbor to a game of pool, or take a dip in the resort-style pool.
This pet-friendly community offers a tree-lined enclosed dog walking area and pet washing stations. No longer will you have to worry about Fido's fur clogging the drain. Two pets are allowed per home and there are restrictions.
Stop by and see the Windsor at West University luxury apartments and you will not want to leave.
The first things you will notice upon taking a tour of the luxury apartments of Windsor at West University in Houston is the amount of space, the openness of the floor plans, and how the rooms flow into each other. Even the ceilings are not standard with a range of 10 to 12 feet. The 12 feet ceilings are available on the first floor only. Think of all the artwork you can hang on such large walls, and there are custom color accent walls too.
Now that you know about the ceilings, it's important to note the floors which are wood-style floors in the entry, kitchen, living and dining areas. The bedrooms feature plush carpeting and the bathrooms are porcelain tile. Back to the first feature mentioned, space. Bedrooms are spacious enough to accommodate king sized beds and bathrooms include oversized soaking tubs. All closets are walk-in, with the exception of the studio floor plan.
Kitchens include stainless steel appliances, granite counters, custom cabinetry with pull handles and natural stone backsplashes. Bathrooms include solid slab counters and custom framed mirrors. All homes include energy-efficient full sized washers and dryers. Select residences feature terraces, double vanity sinks, stand-alone showers, built-in desks, and bookshelves. Furnished apartments are also available.
Stop by Windsor at West University and experience these luxury apartment homes for yourself. These are just some amenities, there are a lot more to enjoy around the community. Call today to schedule your tour.
Tiny houses are becoming more and more popular, but they require a huge commitment, as does owning any home. If you still desire that minimalist lifestyle and are looking to rent in Houston, Windsor at West University luxury apartment homes has a well laid out studio floor plan.
At just under 500 square feet of living space, the S1 Studio utilizes every inch splendidly. Upon entering this studio, you will find a coat closet which something uncommon in most studios. Next to the coat closet are built-in shelves where you can keep your sheets, or even your laundry detergent and other clothes washing essentials since the full sized washer and dryer are right next to them. Next to the laundry room is a built-in desk, which is perfect for any student or employee working from home. This desk is also a good place to stash mail and pay those pesky bills.
Across the hall from all of these previously mentioned areas is the bedroom, and through there you will find the bathroom which includes a linen closet, so you will have a nice place to store your fluffy towels. The kitchen includes stainless steel appliances and a pantry to stash away those cookies or other munchies. Rounding out the studio is the living/dining area which includes a niche where you can display your books, trophies, pictures or whatever may be important to you.
Come take a tour of the S1 in Windsor at West University today and have your minimalist dreams become your new reality.
Often where you live makes a statement about how you live. When you need a luxury lifestyle that is as much home indoors as out it's critical to choose a home located where you can have the best of all worlds. At the Windsor at West University luxury apartment homes in Houston Texas, you can have the best of a thriving metropolis while having Houston's newest green space just steps from your door. The closest park is so new and well planned that you could call the location of the Windsor at West University a community luxury in itself.
Welcome to Houston's newest greenspace
Just a short walk from your door is Levy Park, a multi-million dollar renovated park that lives up to its reputation. In their own words "Levy Park has long been a hidden gem in the Upper Kirby District. A premium public green space in the heart of inner-city Houston, Levy Park is currently completing a major renovation that will create an active and vibrant gathering place for the immediate community and an entertainment and recreation destination for the people of Greater Houston….Redevelopment of the park will feature curated, year-round programming, native landscaping, and botanical experiences, one of a kind children's play, interactive water features, a performance pavilion, an event lawn, a community garden and dog park."
After a vibrant reopening, the park can now be yours. When you are ready to enjoy the best of all worlds, you are ready for life at the Windsor at West University luxury apartment homes in Houston Texas.
Now that spring is upon us, it's important to celebrate the natural renewal that is happening in nature all around. During this time of renewal, it's important to reflect and fully commit to your desire to live the luxury lifestyle you crave. At the Windsor at West University luxury apartment homes in Houston Texas, you will find the fulfillment of luxury at every turn. Regardless the spacious floorplan or layout you choose, you will love living wrapped in luxury apartment and community amenities designed for your personal comfort and daily enjoyment.
Life by the water
As the days warm and the skies clear you can enjoy a new activity outdoors and just steps from your door. Spending an afternoon on your own or a weekend with friends poolside at the Windsor at West University is a guarantee of having fun touched by style. Here you can spend your time floating lazily in clear blue water as you stare up at an endless Texas sky. Alternating between swimming and floating can occupy an entire afternoon. If it's possible to have your fill of a resort style pool you and your friends can relax on the sun deck, or enjoy the arbor covered poolside seating. You can relax and enjoy yourself with friends in any number of comfortable seating areas around the pool – yes you can enjoy a pool after you have finished with the water.
Now that the crisp and beautiful winter has passed and spring is here, renew your commitment to personal luxury at the Windsor at West University luxury apartment homes in Houston Texas.
Living the good life for many seems an ethereal dream that lives somewhere in the future or worse, in some other lifetime. But choosing where you live carefully can bring living the good life into sharp focus and make it your new daily reality. This is exactly what happens when you choose to live at the Windsor at West University luxury apartment homes in Houston Texas. Featuring a nourishing suite of premiere individual luxury apartment amenities and perfectly matched community amenities, you will love a life in total comfort, regardless what spacious floor plan or layout you choose. Here you will understand what it means to live where everything is designed for your personal comfort and daily pleasure.
Perfection for private gatherings
When it's your turn to host the next gathering, be it a birthday, fundraiser or holiday party, you have the advantage of a luxury gourmet kitchen to make meal prep a breeze. The kitchen is the place most people gather during a party, and now you can impress everyone while making your life easier. Your journey into luxury begins as soon as you see the polished granite slab countertops. Whether your guests are resting their wine glasses or elbows on them, these countertops are as functional as they are beautiful. You can renew your joy of cooking the first time you use your stainless steel appliances making prep and cleanup a snap. Custom cabinetry round out the presentation of your luxury gourmet kitchen, or as some understand it, party headquarters.
When you are ready for your turn at the good life, you are ready for life at the Windsor at West University luxury apartment homes in Houston Texas.
Choosing to live a lifestyle full of luxury yet balanced with a cozy neighborhood feel can be a challenge, unless you live at the Windsor West University luxury apartment homes in Houston Texas. Complete with a premiere suite of modern luxury apartment amenities perfectly complemented with community amenities, you will loving living where everything is designed for your daily pleasure and personal enjoyment. Your only challenge will be choosing only one floorplan.
B4 2 bed/ 2 bath perfection
But choosing only one floorplan is easy when you begin with the B2 2 bed/ 2 bath floorplan. This eleven hundred eighty-nine square foot masterpiece is easy to live in whether you live a life on the go or have plenty of time to smell the roses. As soon as you walk in, you are welcomed by your gourmet kitchen complete with gourmet kitchen island perfect for extra working space. Your kitchen flows easily into the generous dining and living spaces that are perfect for hosting your next large party. Each bedroom can be accessed from the living area and are tucked neatly away to be your perfect sanctuaries. Both bedrooms are attended by luxury bathrooms perfect for a quick prep in the morning or taking a long soak in the evening.  Each sanctuary bedroom has a full-size walk in closet that can accommodate every season of your wardrobe.
When you are ready to live with the perfect balance of modern luxury with a cozy neighborhood feel, you are ready for life at the Windsor West University luxury apartment homes in Houston Texas.
While at first glance you may think the Earth itself might not have much to offer, but really stop to ponder for a moment: it's the only planet so far that hosts such a wide variety of complex lifeforms, flora and fauna; and it keeps us alive through its constant cycle of minerals at its core, its bountiful amounts of oxygen and other essential gases to let us breathe, and its steady and calm weather and temperature patterns (sure, Texas may have its random snaps, but it's nowhere near as bad as Mercury, where it can jump from -280 to 800 degrees Fahrenheit depending on the sunlight on the surface.) So why not take the time to appreciate the planet you live in near the apartment you call home?
Here at Windsor at West University, we have the great pleasure of standing only ten minutes away from the famous Houston Museum of Natural Science. Featuring sixteen permanent exhibits ranging from biology, chemistry, anatomy, physics, all the way to astronomy, adults and children alike can learn how the Earth and its surrounding galaxy works with fun and interactive exhibits. Spend the whole day gazing at ancient Egyptian artifacts, marvel at beautifully cut gemstones and gigantic minerals, learn about Texas wildlife and history right at your fingertips, watch a 3D documentary to experience wonders in HD up close, and explore the Butterfly center to gaze at the many winged creatures and learn about the rainforests. Tickets are available online or at the door – $25 for adults and $15 for kids and seniors 62 and up, though having a museum membership lets you in for free and several discounts are available through group purchases and other benefits; temporary or special exhibits may require additional cost.
So explore the world you live in without having to travel all over to do so. Visit Windsor at West University to experience the Houston Museum of Natural Science and many other museums right in our neighborhood.
It's a challenge having to drive to so many places in a short amount of time, or to travel so far just to get errands done or to spend a day of relaxation away from work. If you have to go to great lengths to get what you want, it defeats the purpose of finding a nice apartment to live in. To solve this issue, Windsor at West University offers plenty of community amenities in the complex, along with its convenient position near the heart of Houston, so that way enjoyment can be right outside your doorstep.
For starters, we make sure all our tenants have an easy stay with us. Online payments are available through e-check or MoneyGram, and we offer a 24-hour package and dry cleaning pick up service, so you no longer have to rush to the office to turn in rent or pick up a long awaited package.       The gated vehicle parking garage saves you time by guaranteeing a spot close to your home, while the car charging stations gives electric cars and hybrids a chance to contribute to a cleaner, greener environment. Our close proximity to Rice Village allows you to walk to and bike around the neighborhood and enjoy the dining, shopping, and entertainment, and our pet friendly facility lets your furry best friend join in on the fun.
Rain or shine, we have plenty of recreation in our community for any kind of hobby you have. Summer fans and swimmers will enjoy our large, resort-style pool for diving and wading, sun shelf, arbor covered seating, and grilling areas for cooking delicious BBQ. Our open-air loggia includes an HDTV, fireplace, bar-top seating, dining and private cabanas for those who love to feel the fresh breeze while relaxing. Movie and video game lovers will love our private screening room with HDTV, surround-sound speakers, modern game consoles, and club chair seating. Last but not least, athletic folk can use our expansive fitness center complete with modern cardio and strength equipment and a separate flex room for yoga, TRX, and spin bikes.
So have a home that has a little bit of everything just right next door. Visit Windsor at West University to take a tour of our great community and see if it's the right fit for you today.
The heart of any urban community can get frustratingly hectic, Houston included; the streets get all crowded and it takes hours to get somewhere that would normal only take one, the people get irate and confusing, and in the end even the most extroverted of folk can get exhausted. Thankfully, here at Windsor at West University, all our apartment suites are comfortable and full of amenities, all while in the same area of many Houston businesses and entertainment, so it's easy to claim them as home.
For starters, every lot has high ceilings and oversized windows, great for letting in natural light during the day or the glittering landscape at night along with decorating the walls and setting furniture however you like. The beautiful wood-style flooring in the entry, kitchen, and living area can withstand heavy traffic and damage, is easy to clean and maintain, and will match nearly any décor style. Our open-concept gourmet kitchens are equipped with sleek and sturdy granite slab countertops and natural stone backsplash, a modern stainless steel package, and custom cabinetry to store even your tallest pots and pans. The luxury bathrooms are tiled with porcelain, have custom framed mirrors, and include oversized soaking tubs that are perfect for taking tepid, soothing baths after a long day. The energy efficient full sized washer and dryer sets make it easy to work on laundry from home, while the giant walk-in closets let you store your clothes in whatever way you like. Last but not least, if you want more, don't be afraid to ask: select units have bonus amenities such as private balconies, separate stand-in showers, double vanity sinks, and computer desk niches.
So find sanctuary in the heart of Houston. Visit Windsor at West University apartments to look through our available suites and we'll help you find the right fit your needs and wants.
* Type the characters in the picture below.